Exceptional Service Teams
Selling to the military food market requires a different set of capabilities than the more traditional retail channels. We take an innovative approach to the distribution, sales and marketing of food products to the military markets. Our teams offer experience that's unrivaled in the industry.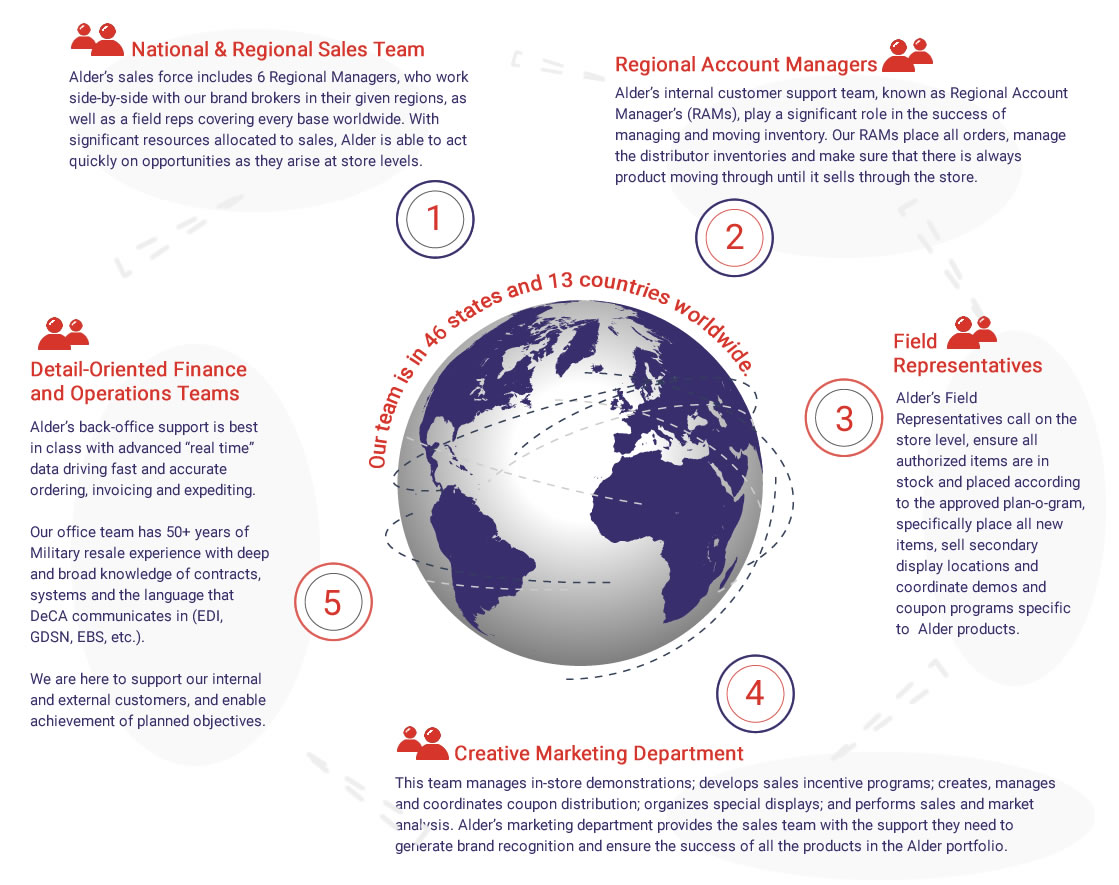 National & Regional Sales Team
Alder's sales force includes 6 Regional Managers, who work side-by-side with our brand brokers in their given regions, as well as a field reps covering every base worldwide. With significant resources allocated to sales, Alder is able to act quickly on opportunities as they arise at store levels.
Regional Account Managers
Alder's internal customer support team, known as Regional Account Manager's (RAMs), play a significant role in the success of managing and moving inventory. Our RAMs place all orders, manage the distributor inventories and make sure that there is always product moving through until it sells through the store.
Field Representatives
Alder's Field Representatives call on the store level, ensure all authorized items are in stock and placed according to the approved plan-o-gram, specifically place all new items, sell secondary display locations and coordinate demos and coupon programs specific to Alder products.
Creative Marketing Department
This team manages in-store demonstrations; develops sales incentive programs; creates, manages and coordinates coupon distribution; organizes special displays; and performs sales and market analysis. Alder's marketing department provides the sales team with the support they need to generate brand recognition and ensure the success of all the products in the Alder portfolio.
Detail-Oriented Finance and Operations Teams
Alder's back-office support is best in class with advanced "real time" data driving fast and accurate ordering, invoicing and expediting. Our office team has 50+ years of Military resale experience with deep and broad knowledge of contracts, systems and the language that DeCA communicates in (EDI, GDSN, EBS, etc.). We are here to support our internal and external customers, and enable achievement of planned objectives.
Learn how Alder Foods can help your brand reach the military food market.

148 Main St., Norfolk, MA 02056
2920 W Broad St., Richmond, VA 23230
Tel: (508) 660-1993 | Fax: (508) 660-8816
[email protected]