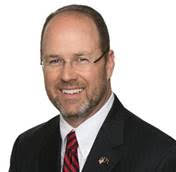 David L. Johnson
President

In March of 2019 David L. Johnson was hired as President of Alder Foods where his primary focus will be to lead the next era of sales growth for Alder Foods.
David began his career in Military Resale 30 years ago at C. Lloyd Johnson Company, a company founded by his grandfather in 1946.
Prior to Alder Foods, David was President of the Military Division for Acosta Sales & Marketing, a full-service sales and marketing firm serving the consumer-packaged goods industry. David had responsibility for the overall financial performance and well-being of this segment of Acosta's business where he led a team of 700+ associates.
Prior to selling his family's business to Acosta in 2008, David spent 19 years as one of the owners and executives of the C. Lloyd Johnson Company (CLJ), a manufacturer's representative to the military resale industry since 1946. He served in many roles of increasing responsibilities during his career, including as a District Manager in Germany, Regional Manager for the Pacific Northwest, Vice President of Sales for Exchanges, and President of the Commissary Division. Acosta's revenue in the military channel has more than doubled since their acquisition of CLJ and they command the highest market share of any other sales agency.
David is a Commander in the Reserve Component of the United States Navy. His active duty time included a 10-month deployment to Afghanistan in 2008-2009 supporting Operation Enduring Freedom, where he was a part of an Embedded Training Team that mentored officers in the Afghan National Army. He has served since 2003.
David also serves as a volunteer admissions counselor (Blue & Gold Officer) for the United States Naval Academy since 2012.
David is currently a member of, and a past Chairman and board member of, the American Logistics Association, an industry trade association representing manufacturers, brokers, and distributors servicing the military resale industry.
David received a BA in Management from Gettysburg College in 1989 and his MBA from the Mason School of Business at the College of William & Mary in 1997.
David and his wife Kelly are in the process of relocating to New England and have five adult children. When not working, David enjoys boating, snow skiing, and riding his Harley Davidson.
"Alder Foods feels like coming home. I grew up in a family business, and Alder Foods has that same sense of family. Business partners and colleagues are treated here with that same sense of care."
Learn how Alder Foods can help your brand reach the military market. 
Alder Foods is a SOMWBA certified Woman-Owned Business Enterprise (WBE).
The State Office of Minority and Women Business Assistance (SOMWBA) certified Alder Foods, Inc as a Woman-Owned business enterprise in October 2009.

148 Main Street, 2nd Floor, Norfolk, MA 02056
Tel: (508) 660-1993 | Fax: (508) 660-8816
[email protected]